Regular price
$949.99 CAD
Regular price
$1,399.99 CAD
Sale price
$949.99 CAD
Unit price
per
Sale
Sold out
BFCM Sales Price Guarantee
Lower price, difference refunded. (Only at Hiboy.ca)
Motor: 500W, Max 650W
Max Speed: 

35.4 km/h

Max Range: 75km
Battery: 

48 V 15Ah Li-ion Battery

MAX LOAD: 265 lbs / 120 kg

Front & Rear Dual Shock Absorber

E-braking & Disc braking
Share
View full details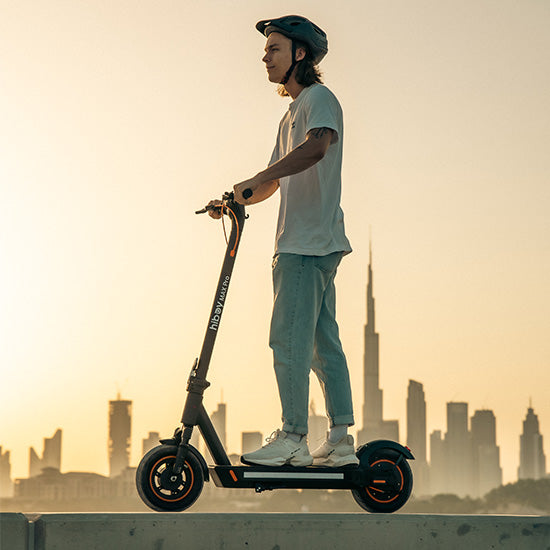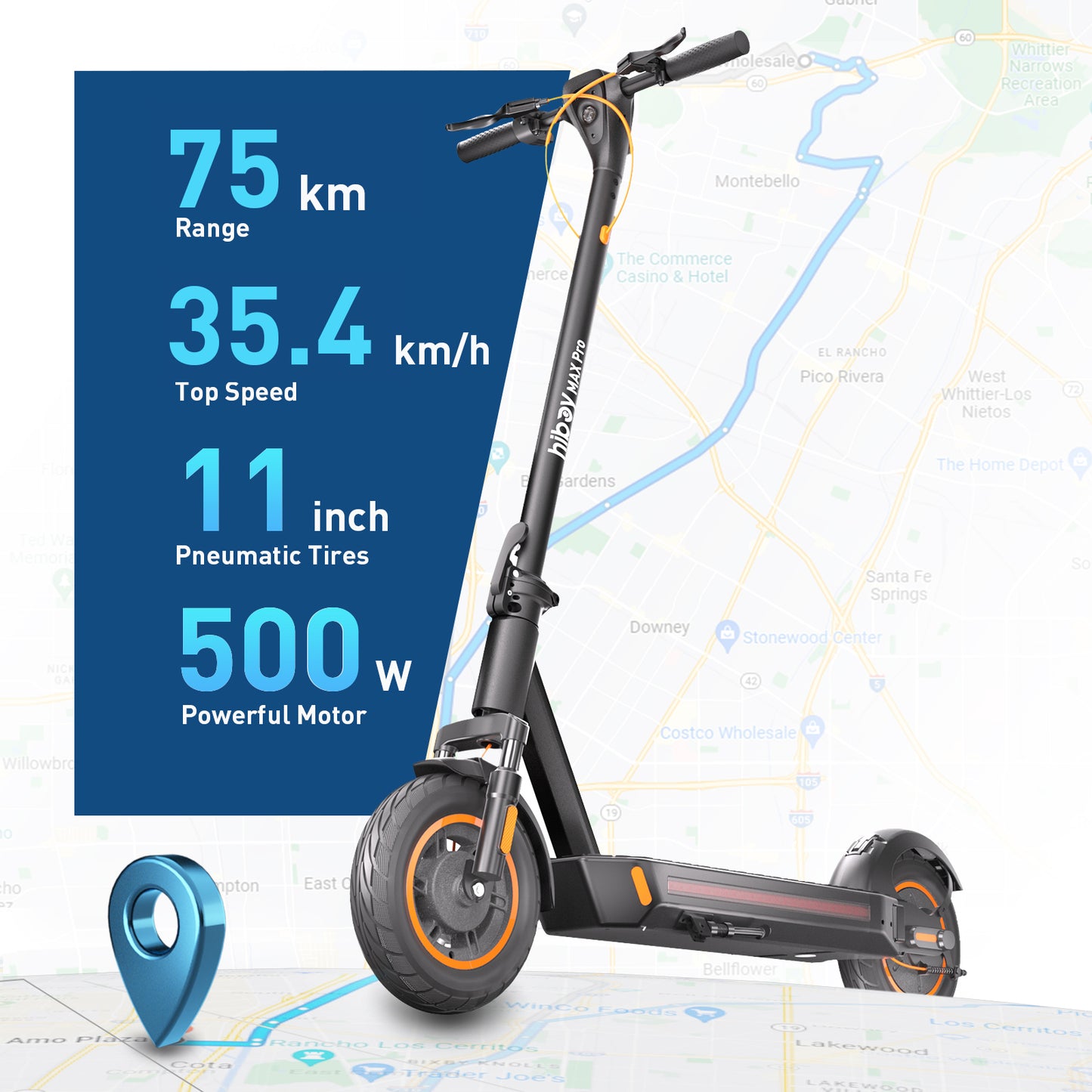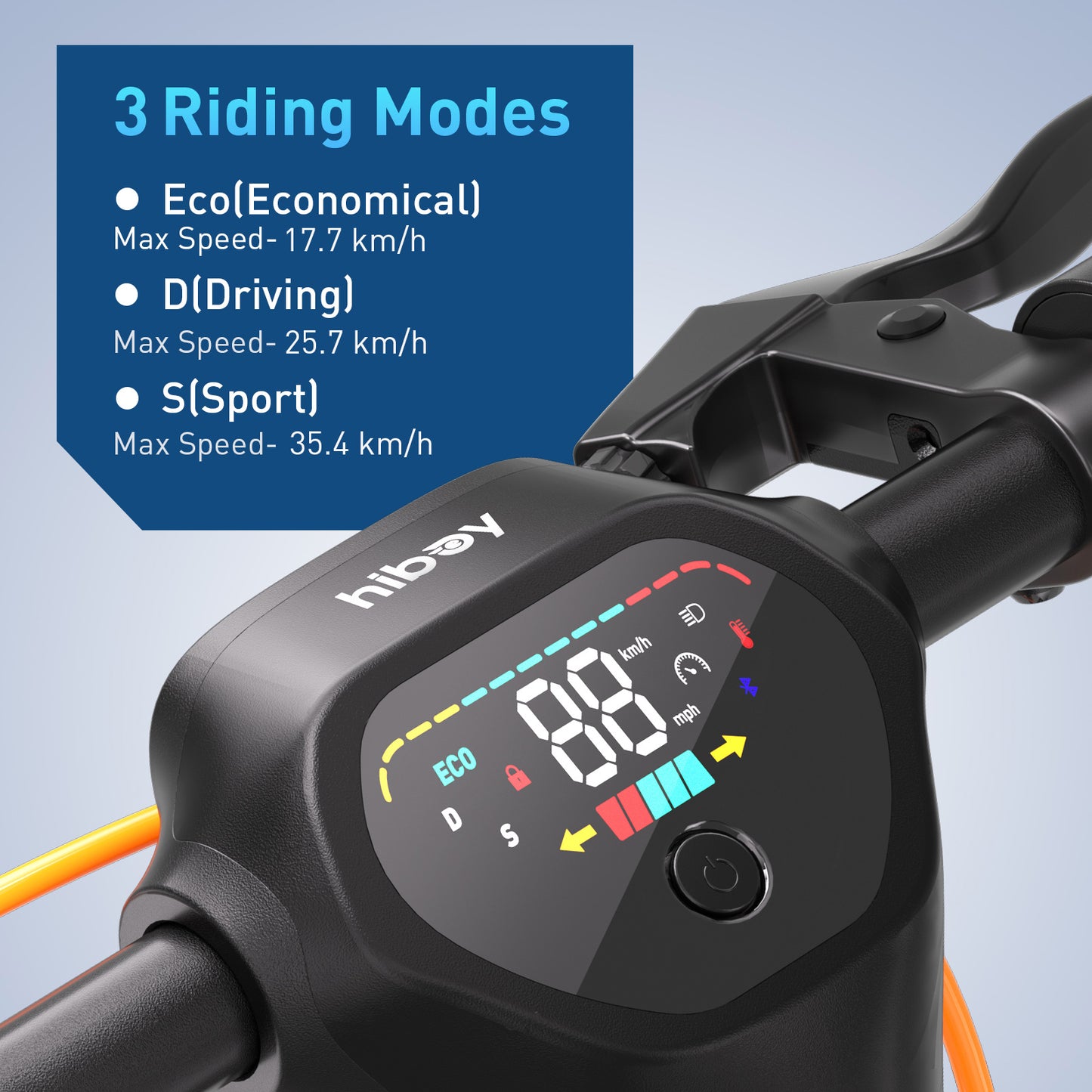 | Item Model | MAX Pro |
| --- | --- |
| MAX RANGE | 75 km |
| MAX SPEED | 35.4 km/h |
| MAX LOAD | 264.5 lbs / 120 kg |
| MOTOR  | 650 W |
| BATTERY | 48 V 15Ah Li-ion Battery |
| TIRE |  11-inch, air-filled tire |
| DIMENSION | 47.24 × 20.87 × 51.18 in |
| PRODUCT WEIGHT | 23.4KG+/- |
| BRAKE SYSTEM  | E-braking & Disc braking |
| MAX CLIMBING CAPABILITY  | 20° |
| ILLUMINATION  |  LED headlight + Taillight+Side brake light |
| DISPLAY | LED Digital |
| CHARGING TIME | 8 ~ 9 hours |
| STORAGE TIME  | 3 months (after a full charge) |
| WATERPROOF RATING |  IPX4 |
| RECOMMENDED AGE | 16+ |
| Number | Parts | Quantity |
| --- | --- | --- |
| 1 | Hiboy MAX Pro Electric Scooter | 1 |
| 2 | Charger  | 1 |
| 3 | Allen Wrench | 3 |
| 4 | User Manual  | 1 |
| 5 | Screw | 8 |
| 6 | Air Pressure Monitor | 1 |
| 7 | Inner Tube (Front&Rear) | 2 |
| 8 | Reflective Stickers for Front Fork | 2 |
MAX Pro: The Captain of Max Series
Solid Stable Commuting Cruiser

Hiboy max pro electric scooter has a wider stand deck and upgraded 11 inch air-filled tire off-road pneumatic front tire for MAX comfortable riding experience and a new handlebar for better control. Decent speed and range with the excellent brake and LED lights that ensure your safety. High performance electric scooter for heavy adults, with max load of 264.5lg/120kg.
11-inch air-filled tire
11-inch air-filled tire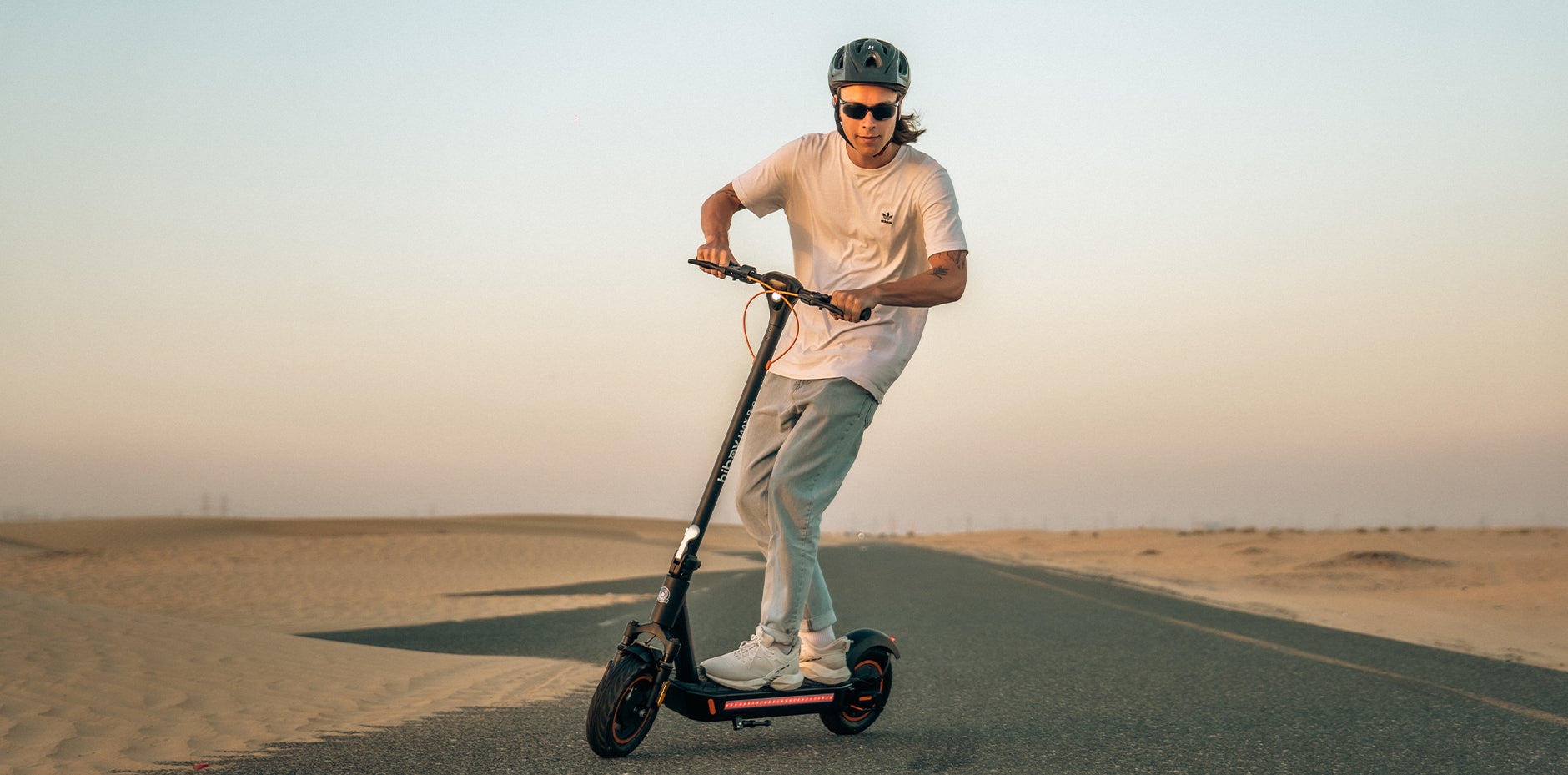 Customizing Speed and Cruise Control
Customizing Speed and Cruise Control
48 V 15Ah Li-ion
Battery Supports
Long Range Journey
48 V 15Ah Li-ion
Battery Supports
Long Range Journey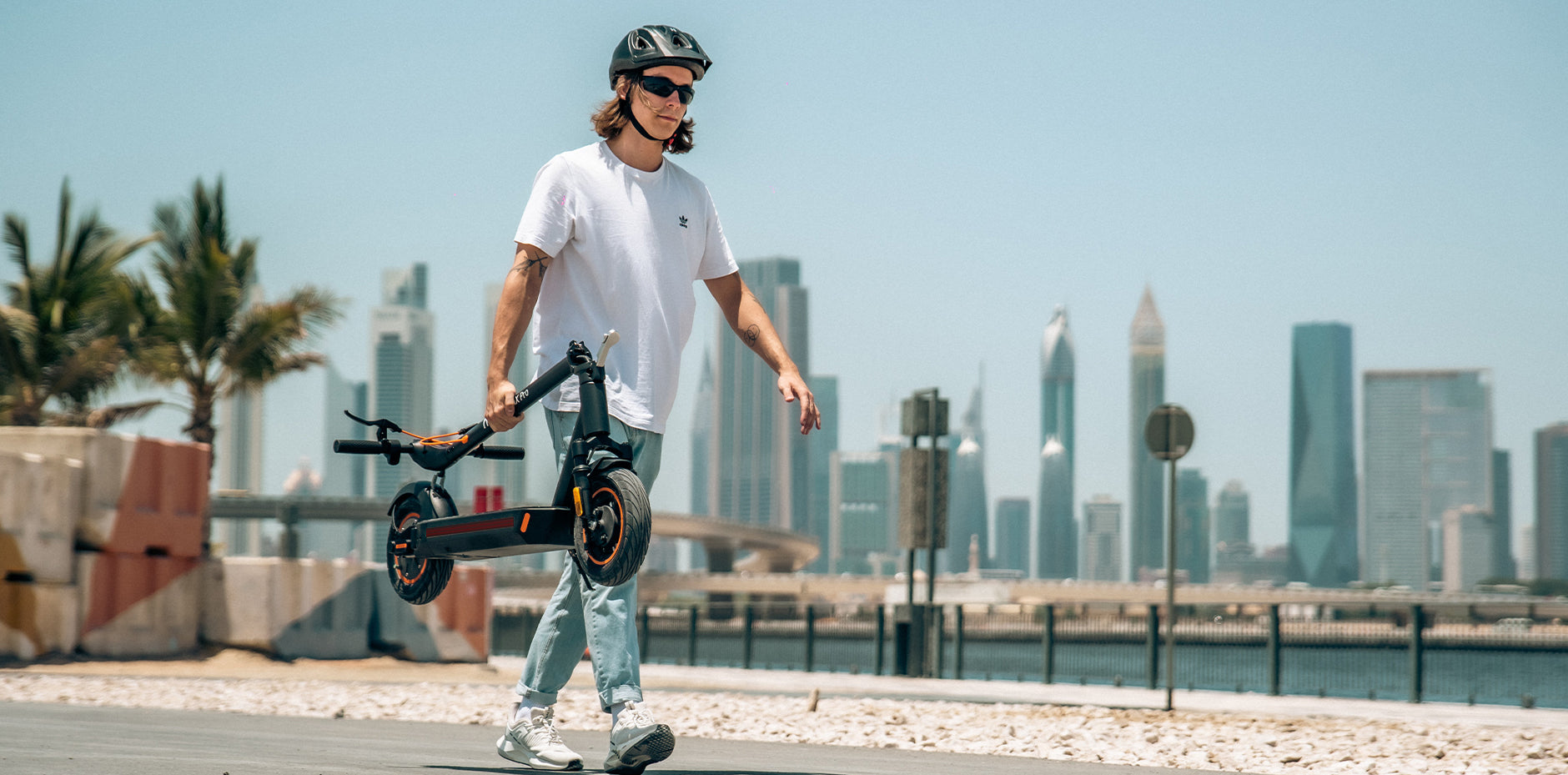 Foldable & Portable Design
Foldable & Portable Design
Juste parfait
En 3 jour ouvrable recu ma commande une belle max pro ! J'ai eu une segway g30 dans le passé une méchante amélioration suspension au deux roue pneu plus gros repose pieds plus long et large tableau de bord couleur guidon haut vraiment très belle on dirait une segway sur les stéroïdes!! J'ai contacté le service mon répondu très rapidement!! Une bonne compagnie je la recommande en espérant pas avoir de problème et l'avoir pour bien des années!! Merci hiboy
Love love love it!
Such a convenient way to get out and run local errands. Super easy to put together, sturdy and easy to operate.
Hi Keith, it is our pleasure to satisfied you. Any question,pls tell us.
Hiboy MAX PRO Electric Scooter
Good Scooter To Ride, Some issues aside
I have the hiboymax pro and Its really fun to ride this scooter, I rode this everyday to my work and back home, The first issue I came with is the app that disconnects all the time, if I put my phone in the pocket while riding then I have to reconnect it again. Also It would be nice to have actual ODO meter showing total kms/miles its ridden on the scooter or in the app to see the actual miles or kms on it.
I also encounter the power switch sticking problem once in a month that makes the scooter difficult to turn on/off or changing modes. I really have to press it very hard or use a tweezer to pop the button little out to make it work again. That might be dirt sticking inside the button or manufacturing issue.
Otherwise overall its is a great scooter to ride with a good range.
Dear Aman,
Thanks for your support to our Hiboy and sorry for the trouble you met. If these issue still exist, pls contact our customer service: us.support@hiboy.com
Voilà ça fais 3 semaines que nous avons nos deux trottinettes et ont à parcourue pas mal de kilomètres. Piste cyclable, route et sentiers. Elle sont parfaite.
- Solide je peux vous en assurer 😉 je suis retomber adolescent de 50ans à 16 ans hahaha je lui en ai demandé a cette petite bête là dans les sentiers mais elle m'a plus que surpris mêmesi j'ai pas des pneus off-road. Très bonne accélération, très bonne autonomie même en mode sport. Je dirais qu'en mode sport on fait régulièrement environ 45 kilomètres sur une pleine charge et il nous reste encore 15%. En mode éco on devrait faire environ 70 kilomètres mais pas testé encore. L'indicateur de batterie par contre manque de précision car quand il te reste exemple 25%, tu éteint et tu rallume et pouff il te reste 65% bizarre.
-Côté confort c'est le top. Il manque juste un banc pour se reposer pendant des longues balade. Il ne sont pas encore disponibles au Canada ☹️La suspension avant et arrière fait vraiment bien le travail. Les pneus 11 pouces gonflables sont vraiment bien et silencieux. Je maintient 32psi.
-Top speed 35 km/hrs atteint sans problème en mode sport et j'ai un poids de 178lbs. Pour monter des pentes, aucun problème avec ça. Le moteur de 500/650watt fais la job. 20% sans problème. Très stable et très maniable.
- Le seul problème c'est l'application mobile. Elle fonctionne bien mais je trouve qu'elle est trop basic. L'application de la S2-Pro est mieux. Manque d'option de configuration comme sur la S2-Pro. Comme un beau cadran de vitesse 😉 Surtout que cette trottinette à beaucoup de potentiel. Pour ce qui est de l'éclairage de nuit c'est parfait. Il reste à voir la fiabilité dans le temps. Mais pour l'instant je recommande sans hésiter. 🤘